Well Christmas has come and gone again (~sigh), and it didn't disappoint! The only disappointing part is how fast it comes and is gone! We did so many fun things and enjoyed a great (but not nearly long enough) Christmas break with relaxing, game playing, movie watching, etc.
On Christmas Eve-Eve (the 23rd), we took the kids out to eat and then to a movie (The Muppets) at the Megaplex. Then that night we started a new tradition with the kids. When they were all ready and sent to bed, they were surprised to find Golden Tickets to the Christmas Express waiting in their beds! We rushed them outside to the Christmas Express (our minivan) where Christmas music was playing and blankets, hot chocolate, and popcorn were waiting for them! Then we drove around to see Christmas lights.
On Christmas Eve we enjoyed a relaxing day at home then headed over to Russ's parents' for some eating, visiting, presents, and a little nativity by the kids. Bennett I played all of his Christmas duets that he learned in piano for everyone and Bennett & Mylie sang for everyone.
When we got home, the kids opened their Christmas Jammies (which Mylie had not so patiently waited for all day). Then we eventually got the kiddos into bed. Coy was not feeling so hot on Christmas eve with a nasty cold, which unfortunately persisted on into Christmas day. You can see by all the pictures how miserable the poor kid was. Needless to say our usually cheery guy was one ornery babe.
On Christmas morning Santa did not disappoint! I love the magic and excitement of Christmas as seen through the eyes of the little ones. The best part of all though was how excited they were to give one another the gifts they had picked out for them. We eventually headed off to church where I was in charge of my seventh Christmas Sacrament Meeting program that I've done in the 10 years we've been married! (I am the ward choir director as well as the primary chorister, so I keep pretty busy :). My whole fam decided to come to church with us, so we were all together. It was great because Patrick's family did a number (they are in our ward which we love), Bennett & Mylie sang Away in a Manger together (so darling), and I also sang. After that we went to my parents' for some more amazing food (yum I miss it already!) and gifts. Later that night we took that party to my Grandma's to have the most amazing food of all...no offense to anyone else, but it is the meal I look forward to most all year! She makes the most delectable (as Fancy Nancy would put it) Clam Chowder ever! Not to mention the blueberry pie!...how many days left til next Christmas? I already can't wait!
The day after Christmas we get together with the Russ's mom's side of the family for more food, another cute nativity, and just some great visiting.
And as said before, we had a lot of fun relaxing, playing, reading, and all that the rest of the break. That's probably the part I look forward to the most! I finally read "The Help" and now I am ready to see the movie! I am sad to see another Christmas go, but am excited for another new year! Here is the same story as above in pictures!
Christmas Day:

Christmas Eve, and Mylie showing off her Golden Ticket from the night before:
Pics with the kids. I find that I sometimes match us all when dressing~ completely unintentional!
At Grandma Harkness's:
Opening Jammies:
Look! Coy is finally almost smiling! Poor little guy!
Coy was 16 1/2 months on Christmas. He is still not yet walking!
Mylie's dance moves in her new jammies:
Christmas Morning:
Giving each other gifts:
Lots of present opening!
Chrismas outfits! (One of my favorite parts of Christmas)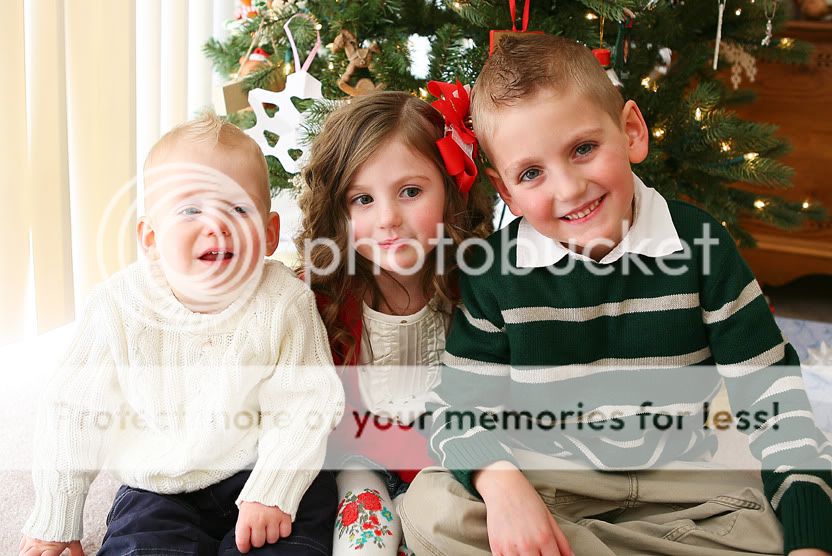 Had to get a pic with Coy since I didn't get one the day before. The one on the right was from the night before at G&G Harkness.
All of my parents' grandkids with their "twinkies" for breakfast.
Nativity on the day after Christmas:
Oh, and here was our Christmas card this year. One of these days I'll post all of our family pictures from over 3 months ago!