One of our favorite things each October is to go to a local farm stand and pick out our pumpkins. I love taking pictures of the kids there each year to see how they have grown. In fact I never did blog last years pictures, though I always meant to, so I decided hey, why not? I'll put on both years!
Here was yesterday:
I love how there personalities show through in the pumpkins they choose. Bennett always tries to pick the biggest, roundest pumpkin he can find. He looks for perfection!

Mylie usually picks hers within the first 30 seconds. She just wants a small one that she can pick up by herself.


This year, Coy just kept pointing at them and saying "ba" meaning "ball" and would throw them as soon as we'd hand one to him.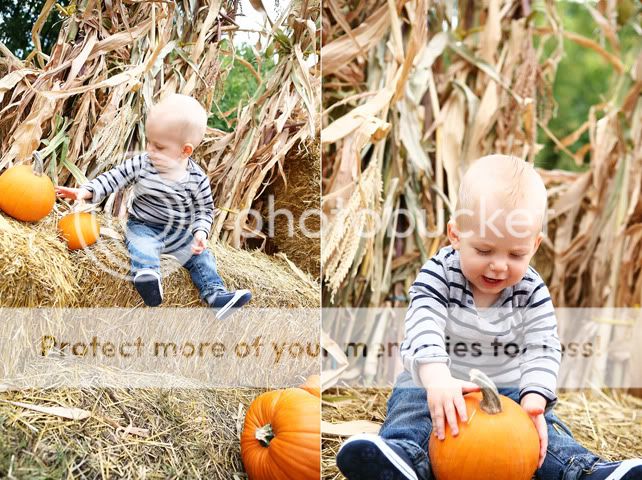 And every year the stand owner always comes around with a big pumpkin on his head, and dear ol' Russ always reluctantly lets him put the stinky old thing on his head. (Luckily this one was a fresher one this time). This is what Coy thought.
First picture getting a good look. Second picture the reaction. I hope he isn't forever afraid of jack-o-lanterns!

And just before we could get out of there, a big down pour! (Same thing happened to me Monday night when I was out on a shoot!)
But, we were rewarded with this wonderful treat on the way home! I think I've seen more rainbows this year than my whole life put together. And this was a FABULOUS one!



If you know at all where I live by looking at the last picture of the rainbow, it seriously looked like it ended right at our house and that we would find the pot of gold there when we got home. The kids truly thought it would be at our house when we got there!
And FYI, Bennett has a HUGE fascination with rainbows and loved that this one actually showed all seven colors very clearly. He wants a rainbow birthday cake. Still haven't changed his mind on that one. So soon I will be making a rainbow birthday cake for my 6-year old boy.

So on to last year. Look how my kiddos have changed! We just put those pants of Mylie's on the shelf because when she tried them on they were up to her shins! And she actually wore that same dress today as a much shorter shirt.



Last year after we got home, we decided to paint and color the pumkins. Look at Coy! He just napped in his bouncy seat. Crazy how he's changed!


I know I've said it before, but I LOVE TRADITIONS!!!